What is the percentage of users who use the smart inbox?
We created the Smart Inbox as a way for users to spend less time managing their emails and more time focusing on the important things in life - which definitely shouldn't include organizing emails or searching for pieces of information hidden in a lengthy text or attachment of an email. Luckily, this idea seems to resonate really well with our users - we've seen very encouraging growth since we released the Smart Inbox a year ago.
We use the Smart Inbox in our own private mail accounts as well, and enjoy the organization and focus it brings us. This way, we experience the potential first hand and see many more use cases. As we speak, our teams are adding more features to the Smart Inbox to broaden its functionality - we want our users, and ourselves, to have the peace of mind that we're on top of our inbox at all times.
In your opinion, what are the biggest mistakes that senders make in terms of user experience in emails?
I don't think there are general mistakes. It's just a different mindset. Senders probably like to imagine their customers waiting at the edge of their seat for news about the next event or to learn how the company is dealing with the Corona virus situation.
In our experience, that's rarely the case. People "batch process" automated emails. They take blocks of time to sit down and go through their "unimportant" emails from the last week or so.
Users usually distinguish very clearly between important and unimportant emails - and only the important ones are of interest right away when they arrive. Imagine you're waiting for a very important email, like after applying for a job you wait for an interview invitation. And then you receive a random "We found posts that might interest you" email. The moment you receive that notification about the new mail, you're probably going to be really disappointed and sort of mad at the sender for giving you false hope. It's not the brand's fault, of course, but the better user experience in this case would have been to either not being notified at all or at least getting an indication that it's not a personal email.
What is your appeal to senders of automated emails?
At the end of the day, the user is at the top of it all. If senders don't respect the user's needs and if mailbox providers don't support users in managing their inbox to fit those needs, then users are likely to turn away. Regardless of whose fault it is, if email as a medium doesn't work for users, they might declare email bankruptcy or ultimately even abandon the medium altogether. So, we're all in the same boat and need to work together. Our company regularly publishes tips for adjusting emails to user's needs. We're also actively contributing in several organizations like CSA aimed at improving email user experience.
Practical first steps for senders certainly include adhering to CSA standards. It's also really helpful if senders add structured data like schema.org annotations to emails. We're happy to assist with that as well. Structured data gives the receiver an indication what the email is about, for example if any action is required.  So ultimately, it again supports the user in dealing with a full inbox, for example to distinguish mails that need immediate attention from the ones that are mainly for archiving.
How do users handle or react to emails with structured data?
Users can't see whether an email contains structured data or not. The schema.org annotations we rely on are not visible to the user. Instead, the user interacts with the smart services we offer based on the information contained in the structured data. Structured data is not the only source of input for these smart services, but it's definitely the most reliable and therefore the most useful to the user.
Our users appreciate the smart services because they save them time. They can see the most relevant information in the email really quickly. It also helps them find emails and information more easily. For example, all emails belonging to the same online order are linked with each other.
What will the mailbox of the future look like?
We can already see glimpses of the future here and there. For example, we're working with Deutsche Post to include scans of physical mail envelopes in GMX and WEB.DE mailboxes. This feature will roll out to users this summer and will also include the content of physical mail in the future. Users will then have all their online and offline communication in the same place, which transforms their mailbox into their digital home. Of course, this digital home also comes with cloud storage to securely store all your other digital valuables like pictures or your CV.
Another service causing a similar transformation of the mailbox is netID. With netID, a user's email account is transformed into a GDPR compliant authentication ID for a wide variety of online sites and services. In combination with the other trust services we offer, like De-Mail, the mailbox becomes a user's digital identity.
So, the mailbox of the future is near and it is very convenient. The digital home and digital identity combine many separate services without compromising on data sovereignty. It also causes the mailbox to contain a more widespread array of information, notifications and action items, which make proper organization essential. The Smart Inbox takes on this organization task, so the user doesn't have to. The Smart Inbox provides you with the information you need when you need it, and gives you the peace of mind to focus on the important things in life.
About 1&1 Mail & Media GmbH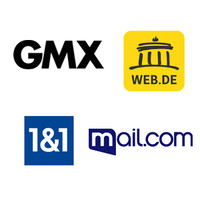 With its brands GMX and WEB.DE, 1&1 Mail & Media GmbH offers an extensive portfolio of communication solutions in the areas of e-mail, cloud and internet. With over 34 million active users, the company is the leader in the DACH market. The processing of all user data takes place exclusively in German data centers and is thus subject to the requirements of strict German data protection in accordance with the European GDPR. The brands of 1&1 Mail & Media GmbH are part of the initiative "E-Mail made in Germany", which stands for secure e-mail communication and encrypted data transport among German e-mail providers. 1&1 Mail & Media GmbH belongs to United Internet AG, Europe's leading Internet specialist.