Blog
CSA Digital Email Summit 2021 gathers the best minds in the industry
The CSA Digital Email Summit 2021 will once again gather the best minds in the industry online. Year after year, the CSA welcomes advertisers and email and Internet service providers to the CSA Email Summit. For the second year in a row, the internationally renowned, English-language event will take place as an online-only event. In numerous webinars, the Certified Senders Alliance (CSA) makes insider knowledge for the professional sending of commercial emails accessible free of charge. The organisers expect hundreds of marketeers and technicians from all over the world to attend the presentations of many top email experts. The event series, which starts in spring, is divided into two parts by a summer break. There is a Spring and an Autumn edition.
Agenda of the Spring Edition
Bringing Email Education to the Masses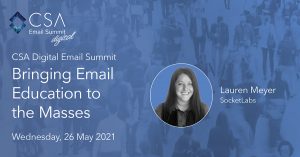 Not enough people have strong fundamental knowledge in email marketing best practices and strategy, even though email consistently outperforms other marketing channels available to us. This is the case for many departments despite being consistently adjacent or involved in the practice, leading to a variety of problematic outcomes. In this session, Lauren will share tactics for effectively educating your key decision makers (or customers) on the true value that can be unlocked by following essential email industry best practices, and making deliverability, compliance and security a priority.
Competitive Tracking

Why should you track your competitors' email sending? You most likely already track their websites & social media to ensure you keep up with your competitors, so why not track via email as well? You can now get the ability to track your competitors' email campaigns, and not just by signing up to receive some of their emails. Using the right tools you can track their engagement metrics, subject lines, email design, segmentation, and send frequencies which can help you figure out how to alter your own email strategy to get higher engagement and ultimately increased revenue.
DMARC is here to stay ... Now what?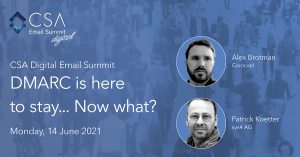 DMARC was developed over five years ago, and since then it's been adopted by millions of sending domains and hundreds of receivers. However, there are still a large number of senders who are not at enforcement levels, or who are not using DMARC at all. DMARC is of increasing importance to our ecosystem, for all parties involved. Join Alex and Patrick to learn more about trends in DMARC, why it's important, and where they going next!
A Day in the Life of a Consumer Mail User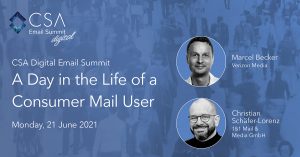 This talk will look at emerging technologies and consumer email features that mailbox providers are working on. Marcel and Christian will share how they see their users using their product and how that influences the features they build and products they offer. And it will touch on why brands and senders have to think about deliverability differently.
E-Mail tracking and EU privacy laws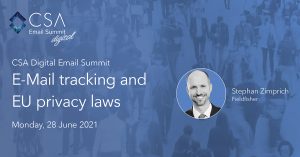 The GDPR celebrates its third anniversary but only now it becomes clear what the new EU privacy regime means for tracking activities. Stephan Zimprich, partner at Fieldfisher, will provide email service providers, advertisers, publishers and technology vendors with an overview about the challenges and recent developments concerning email tracking and email advertising in Germany and Europe.
Registration
For more information and to register online,  visit the CSA Email Summit website.
Be a speaker in the Autumn Edition
Experts who have something to share with the industry are cordially invited to apply for one of the few remaining speaker slots. Share your knowledge and become part of the CSA Digital Email Summit 2021 with your strategies and ideas. Contact Maike Marx for more information maike.marx@eco.de